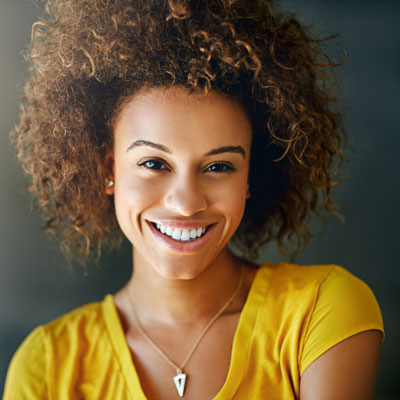 Cosmetic Dentistry in Beaumont
When Smiles Need a Makeover
At West End Dental, we care very deeply about making sure all of our patients, both young and old, are happy with their oral health. But having good oral health alone is not always enough. If chips, cracks, stains or other imperfections take away from a smile's appearance, patients might not be so willing to show it off. That's why our dentist offers multiple cosmetic treatments for patients! To schedule a smile makeover, give her office a call!
Porcelain Veneers
A porcelain veneer is an extremely thin, tooth-shaped shell of ceramic created to conceal the cosmetic damage in a patient's smile. During the initial consultation, our team will do a careful examination to make sure there are no underlying dental problems in need of attention. Then, we'll take careful notes on the size, shape, and general coloring of the other teeth. We want the veneer to blend in well, after all.
Porcelain veneers are a great answer for people who have chipped, cracked or otherwise damaged teeth that are visible when they speak and smile. Even discolored or malformed teeth may be concealed using this method. Your West End Dental dentist will be able to determine whether or not porcelain veneers are the appropriate treatment.
Metal-Free Crowns
Unlike famous art pieces or murals in the neighborhood, cosmetic dentistry is one of the few works of art we don't want others to see. If a patient's only exposure to dental restorations is metal crowns and fillings, they should know that dentistry has come a long way since then. Our materials always include ceramics, especially when it comes to dental crowns. Our smiles should look uniform and natural throughout, not tinged with notes of silver for everyone to see!
Cosmetic Bonding
Just because teeth have minor cracks and chips to hide doesn't mean it's necessary to spend a fortune on a brand-new set of veneers. For those looking for cosmetic dentistry on a budget, cosmetic bonding can help! By using the same composite resin used to create tooth-colored fillings, we can quickly cover cracks, chips, permanent stains, and even gaps in between the teeth! With proper care, these adjustments can last for over 10 years.
Opalescence® Teeth Whitening
Wishing for a brighter smile? Over the years, stains accumulate on the enamel of the teeth, and many of these discolorations are rooted too deep for a toothbrush and toothpaste to help at all. It's a natural part of the aging process, but that doesn't mean we have to settle for it! Want to make your teeth really shine? Call West End Dental for our in-practice Opalescence BOOST and take-home GO teeth whitening options!
Cosmetic Dentistry Makes Everyone Feel Better
Having a smile on your face changes how we view the world around us. When that smile is not the best it could be, it may affect our outlook and our health. At West End Dental, we have several options to improve smiles, outlook, and health. Contact us to learn more!
CONTACT US »

Cosmetic Dentistry Beaumont TX | (409) 860-9600